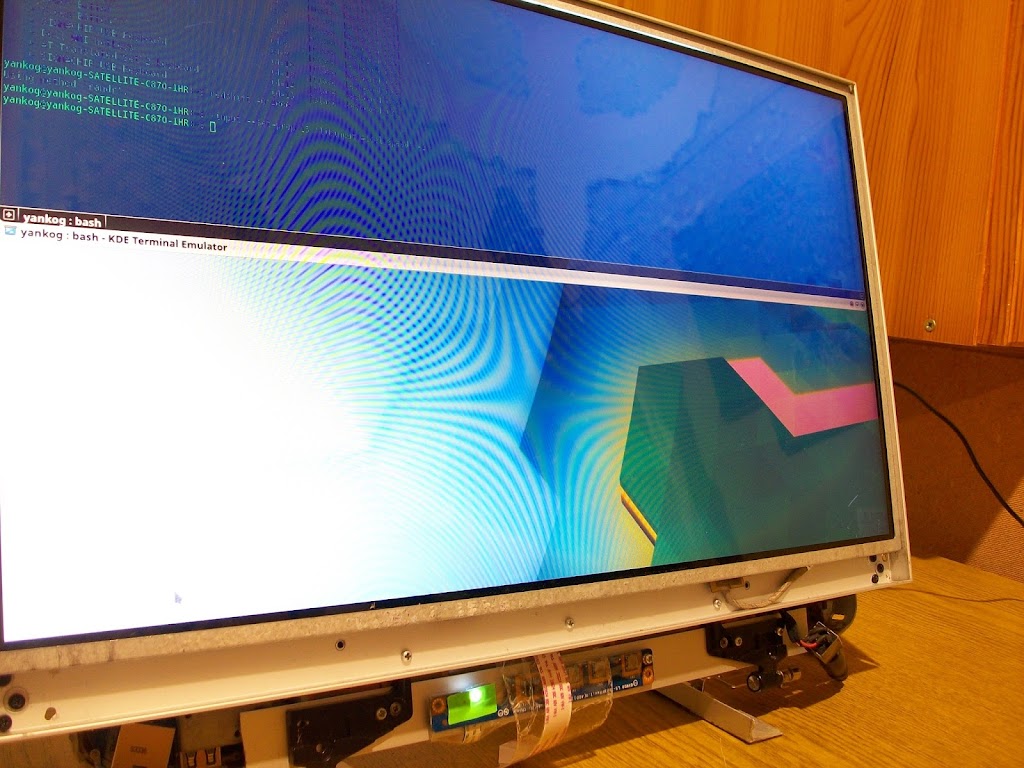 Here is what I want from a laptop:
17-inch
lightweight
quad-core
custom keyboard
?!?
In real life, however, "lightweight" doesn't go with any of those. So I set off to put together my own 17-inch-lightweight-all-powerful kind of thing.
Mk. I:
The Toshiba Satellite C870 AIO
The first candidate was a cheap deal for a Toshiba Satellite C870 with wrecked hinge plastics.
Originally I was thinking to use this as a (normal) laptop, but I had to look for new display plastics, keyboard and what not, so what the heck, I decided let's do it another way.
| | | |
| --- | --- | --- |
| | | R.I.P. victims of weight reduction |
First thing I tried was to just put some aluminium corner profiles to the hinges and use them as a stand. That worked nice, but I had to somehow attach the 17-inch display panel to the chassis.
Sure, plastic band was first thing on the list 😉 But anyway, I bought some more aluminium profiles, cut them, drilled them and fixed myself a nice little frame for the display.
Then fixed the Frame to the top cover of the laptop, where the mainboard and most other components are attached: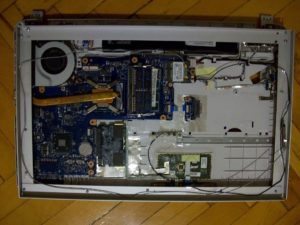 Fixing the frame was somewhat tricky. I wanted to use the original screw holes, so I bought 12mm long screws and a load of 2mm nuts.
What's so tricky, you might ask? Try buying a 4mm wrench – none of these are sold to begin with. I had to do all those tiny screws by hand.
Then again, I guess it was worth the effort:
Mk. II:
The Dell Latitude E5430 AIO
The Satellite C870 was a valid machine and I did work on it for a few months, but being a low-end model it suffered from several flaws. Without going into details, the main problem was that my Core i7-3720QM was capped at 35W, which translates to heavy throttling at high CPU and iGPU loads.
That's why I was delighted when I found that cheap Latitude E5430 on Ebay. It had broken display and keyboard, but why bother – I still had the 17.3″ panel from the Sattelite C870 😉
Quite surprising IMO, it looks that one of the most universally interchangeable components of a laptop is the 40-pin display panel, beating even generic stuff like RAM and chargers.
The guys from Patriot must have expected that someone will remove the SSD casing.

Those terminator-style LEDs…
Using the same aluminium frame, I just took the whole panel and fixed it to the E5430. Put some effort at fixing the stands to the hinges, and there we go – a full fledged 17-inch quad-core beast at 1300 grams.